So, technically, The Hesitant Heiress isn't a new release.  And yet at the same time, it is.
Have I lost my senses?
Well…maybe… but not about this 🙂
You see, oh dear blog readers, initially when Whitaker House released Dawn Crandall's debut series last August, they only released them as ebooks. Due to overwhelming popularity and fan outcry, all 3 books so far in the Everstone Chronicles will be available on paperback by the end of this year!
Starting with this year's ACFW Carol Award nominee The Hesitant Heiress which was officially out in paperback on September 8th, the remaining volumes in the series will be released one a month until all 3 are available in this format. I for one (and I know many others with me) am so excited about this!!! I love my ebooks but an actual book with pages I can turn and hold (and yeah, sniff occasionally) will always be dearer to my heart.
After being unjustly expelled from the Boston Conservatory of Music, Amaryllis Brigham sees her dreams of founding a music academy in her hometown of Seattle, Washington, disappearing before her very eyes. Now, the only way to achieve her goal comes with high stakes for someone set on avoiding men as much as possible: Marry within the year to inherit the immense fortune of her estranged grandmother. Amaryllis reluctantly moves in to her aunt's Boston home and rubs shoulders with fashionable society. Despite her own misgivings, she soon finds herself quickly falling in love with the most unlikely of men, Nathan Everstone, the envy of every eligible female, whose father has haunted her dreams for the decade following her mother's tragic death. However, Nathan turns out to be much more than he seems…and everything she never knew she wanted. But can she ever really trust an Everstone man?
Crandall's debut novel, The Hesitant Heiress, has already won the 2015 Gayle Wilson Award of Excellence in the inspirational category from the Birmingham Chapter of Romance Writers of America. It is also currently a finalist in the debut category of the American Christian Fiction Writers (ACFW) prestigious Carol Awards which recognizes the best Christian fiction published by traditional publishing houses in the previous calendar year. The winners of the Carol Awards will be announced Sunday, September 19, 2015 during the gala awards dinner in Dallas, Texas at ACFW's annual conference. Most recently, The Hesitant Heiress won the Wisconsin RWA Write Touch Readers' Award.
I don't normally care for first person narrative.  There are some exceptions, however – books where the author just does such a stellar job that I do genuinely enjoy that perspective for that book.  Varina Denman and Kristan Higgins come to mind; now, Dawn Crandall is another author I will be adding to this list.  In fact, most of the time, the story so captivated me that I forgot I was even reading in the first person! Dawn's writing style simply embodies talent – from her prose to her characterizations to her kissing scenes. (ohhhh the kissing scenes!!! Don't get me started on those or we will be camped there all day! But suffice it to say, I should have included The Hesitant Heiress in my Kissing Books post…)
The quotes at the beginning of each chapter added to the entire reading experience for me, creating a sense of anticipation for what that section would hold and many times bringing a chuckle to the surface at the quote's dry wit or the irony of its application. For instance, this snippet from Alexander Dumas' The Three Musketeers so perfectly began a scene between Amaryllis and Nathan:
Ha!
Speaking of those two, Amaryllis and Nathan quickly became one of my new favorite romantic pairings.  Nathan with his intense brooding gazes. Amaryllis with her endearing but absolute cluelessness. Oh the FEELS, y'all! I forgot to breathe so many times during The Hesitant Heiress that I'm surprised I didn't need medical attention by the end 😉  And when Nathan spontaneously bows his head near Amaryllis' shoulder and prays aloud for both of them???? I think I actually swooned a little.  So tenderly perfect.  Real men can be tender and gentle and spontaneous pray-ers – in fact, they should be!!
And then there are the "villains", both of whom end up being a bit of a surprise in their own way. I won't spoil anything for you but let me just warn you to hold on to your hats!! Just when you think it's safe to relax, it may not be.  That's all I'm saying.
Between my love for these characters and my pure enjoyment of the artistry of the writing, the setting of 1890s New England became icing on an already yummy cake.  Ever part of the background without taking over or fading away, the lifestyle of these wealthy Vanderbilt-contemporaries is essential to understanding the lives and the motivations and even the insecurities of the people we meet on the pages of The Hesitant Heiress. As Nathan himself said at one point, "Were you aware that all anyone really cares to know of me is the fact that I am born into the Everstone family, and that I am therefore wealthy beyond reason?" At which point, I'm pretty sure I hollered through the book to Amaryllis, "Hug the poor man, for the love!"
Bottom Line: With a voice reminiscent of Georgette Heyer or Jane Austen, Dawn Crandall will whisk you away into another era, a time when inheritance dictated one's future and twenty-five was considered long past the age for marriage.  The beauty of the romance and the dimensionality of the characters lingers long after the book is closed.  As this is the first in the series, the author sets the stage here for the other books by introducing a myriad of secondary characters whom you will care about just as dearly by the end as you do Nathan and Amaryllis. If you like Julie Lessman (or Julie Klassen for that matter) or Sarah Ladd, you will love The Hesitant Heiress.
And now it's available in PAPERBACK!!!! (Cue the celebratory fanfare!)
(This review is based on my own purchased copy of the book and is, as ever, only my honest opinion.)
Purchase your own copy: http://amzn.to/1NsBm5N
Or participate in one of these awesome giveaways for a chance to win one of 5 paperback copies of The Hesitant Heiress!
~and~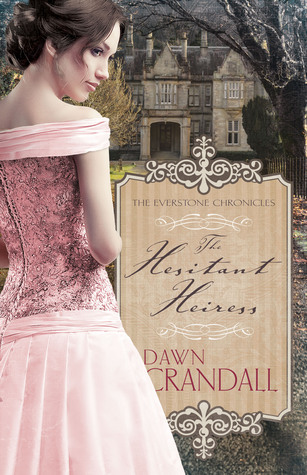 https://www.goodreads.com/giveaway/widget/151636
Stay tuned later today for an interview with the super-awesome Dawn Crandall here on ye olde blog 🙂
About the Author: 
A graduate of Taylor University with a degree in Christian Education, and a former bookseller at Barnes & Noble, Dawn Crandall didn't begin writing until 2010. That is the year she shared with her husband her long-time dream of writing books. He encouraged her to quit her job and to pursue her passion to write stories. Apart from writing books, Dawn also recently became a mother—she and her husband were blessed with a baby boy in March 2014. She also serves with her husband in a premarriage mentor program at their local church in Fort Wayne, Indiana. Dawn is a member of Romance Writers of America, American Christian Fiction Writers, secretary for the Indiana ACFW Chapter (Hoosier Ink), and associate member of the Great Lakes ACFW Chapter. Dawn is represented by Joyce Hart of Hartline Literary.
Connect online with Dawn at her website, Facebook, Twitter, and Pinterest.