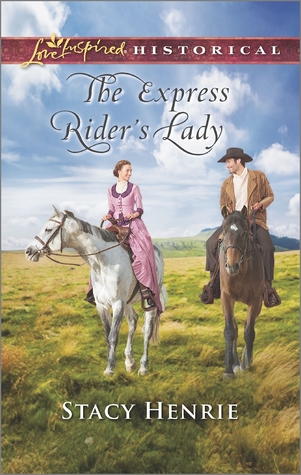 The Express Rider's Lady
by Stacy Henrie
Adult Christian Historical Romance
Paperback & ebook, 288 pages
February 9th 2016 by Love Inspired

Westward Wedding Journey
Delsie Radford is going to make it to California, no matter the danger or difficulty. Her father may have kept her and her sister apart, but Delsie refuses to miss her sister's wedding—even with only eighteen days to get there. And she's found the perfect escort in Pony Express rider Myles Patton.
Myles can't believe it when a pretty socialite hires him to take her cross-country through rough terrain and dangerous territory. Surely she'll quit before they reach their destination—he's known girls like her before. But the longer they ride together, the more Myles notices Delsie's toughness and kindness beneath her polished exterior. And though they may be worlds apart…they might just be perfect for each other.
This was such an enjoyable read! The history, the romance, the friendships, the writing, the setting – all of it together put me right in the heart of the story as I journeyed with these characters.
Let me just go ahead and talk about the romance first (because we all know that's my favorite part of any book). Myles is one of those heroes who … should I happen to actually come face-to-face with him … would turn me into a blushing, giggling schoolgirl of a mess.  He's rugged and protective. Tender when he needs to be. Scruffy. Watching his transformation – the thawing of his heart & his faith – over the course of the story was deliciously swoon-worthy.
And Delsie? Well, watching her transformation from society girl to skilled trail rider was a highlight of the book for me. Mainly because – if I were in her boots – I would have turned around after about an hour and called it a good attempt. Certainly after the first day's worth of … uh …saddle chafing.  And most certainly after someone tried to teach me how to skin and gut a critter. At that point, I'm not sure if I would have laughed or cried on my way outta Dodge – possibly both. I for sure wouldn't have lasted long enough to face the risk of Indian attacks. But Delsie? Wow. You just have to read The Express Rider's Lady to get a new appreciation for the grit and determination that ladies had to possess during the Westward Expansion period in our nation's history.
I adore Amos – he is perhaps my favorite character in this latest book by Stacy Henrie.  His separate friendships with both Myles and Delsie bring a new level of tenderness and depth to the story.  The three of them together make a priceless team.
Without revealing anything spoilery, I absolutely have to mention that the last chapter is perhaps the best. Sometimes – especially in these shorter novels – the ending suffers from "hurry up and squeeze it all in" syndrome.  Not so with The Express Rider's Lady.  Though I needed copious tissues for part of this final chapter, Stacy Henrie ends the book on such a marvelous note, especially the last few pages (which I'm not ashamed to admit nearly made me swoon with romantical delight!).
Bottom Line: The Express Rider's Lady by Stacy Henrie not only provides a sweet romance but also gives readers a compelling glimpse into the perilous conditions once common to cross terrain we now take for granted.  Smooth writing, vivid settings, and heartstopping action bring the characters and the history to life. A quick read, as typical to the Love Inspired line, but very entertaining!
(I received a copy of this book in exchange for only my honest review.)
My Rating: 4 stars / Loved it!
KissingBook Level: 3 / May forget to breathe on occasion
Stacy Henrie has always had a love for history, fiction, and chocolate. She earned her B.A. in public relations before turning her attentions to raising a family and writing inspirational historical romances. Wife of an entrepreneur husband and a mother to three, Stacy loves to live out history through her fictional characters. In addition to author, she is also a reader, a road trip enthusiast, and a novice interior decorator.
Website – Goodreads – Facebook – Twitter – Pinterest
$50 Amazon eGift Card (open internationally)
Print copy of The Express Rider's Lady (US only)
ebook of The Express Rider's Lady (open internationally)
Ends February 19th